INTRODUCTION:
One of the most mysterious aspects of telephony and VoIP specifically, is how e911 works. Because this is a critical issue for anyone responsible for telephony systems, we want to help you understand how it works when you partner with SIP.US. This article contains important information that can save, time, money, and most importantly, lives!
DEFINITIONS:
Standard DID - The lowest cost DID at SIP.US where NO address information is input into our system
Enhanced DID - An upgraded DID at SIP.US where address information is input into our system which can be forwarded to a PSAP
PSAP - Public Safety Answering Point (aka 911 Dispatch Center)
THE BASICS:
Standard DID is not meant for 911 calls.
If you dial 911 on our trunk, and your callerID is NOT an enhanced DID on our system, the call is routed to a generic 911 call center where they will attempt to get the callers location and then forward the call to the PSAP. We are also assessed a $75 charge for dialing 911 using a non-provisioned callerID number by our carrier. We pass this $75 charge on to our customers.

Most people buy at least 1 ENHANCED DID and set the address for that DID (which can be changed at any time), they then use that number as the OUTBOUND CALLER ID number when dialing 911. You can verify the address is set properly by dialing 933 on our system and our automated verification system will play it back to you and confirm the address is valid.

When you dial 911 with the callerID being an ENHANCED DID, we automatically do a lookup of the address on file and immediately send the call to the nearest 911 PSAP. There are no additional surcharges or penalties when dialing 911 that has a callerID of an ENHANCED DID.
SETTING UP ENHANCED DID:
STEP 1:
Log into your SIP.US control panel and click "Manage Your SIP Trunks/Numbers"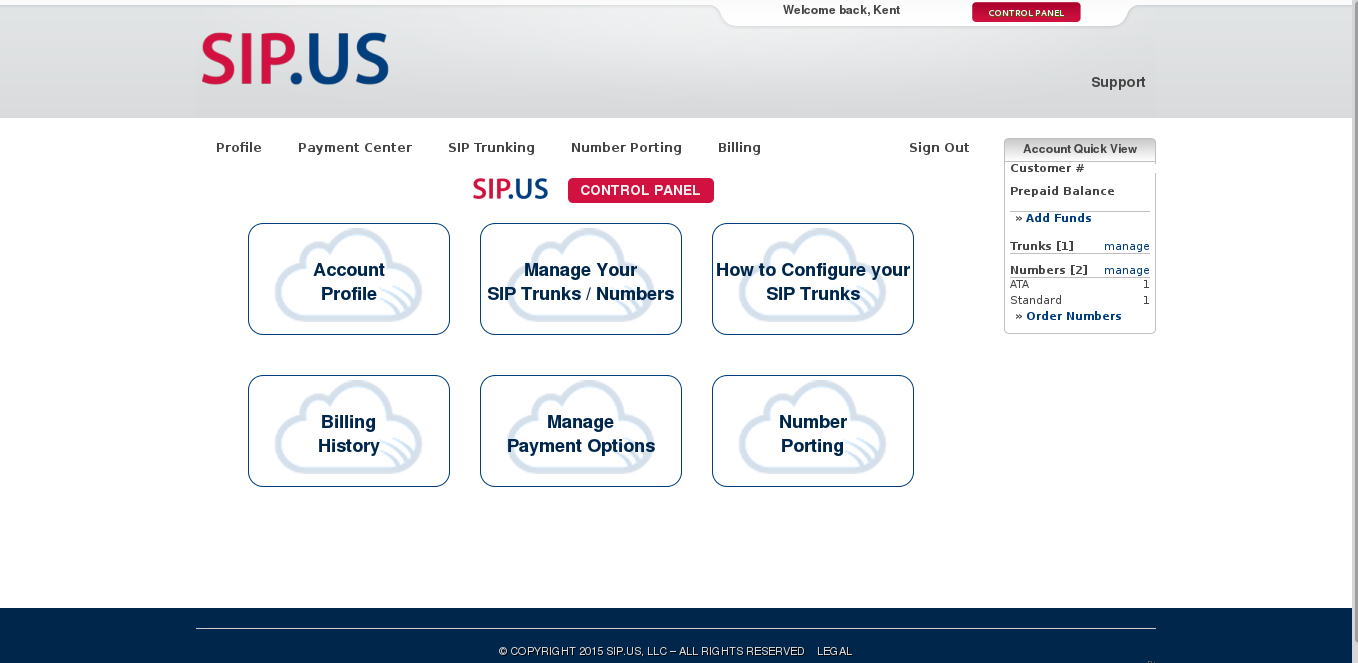 STEP2:
Under the "SIP Trunking" tab, click on the "Order Telephone Numbers" tab: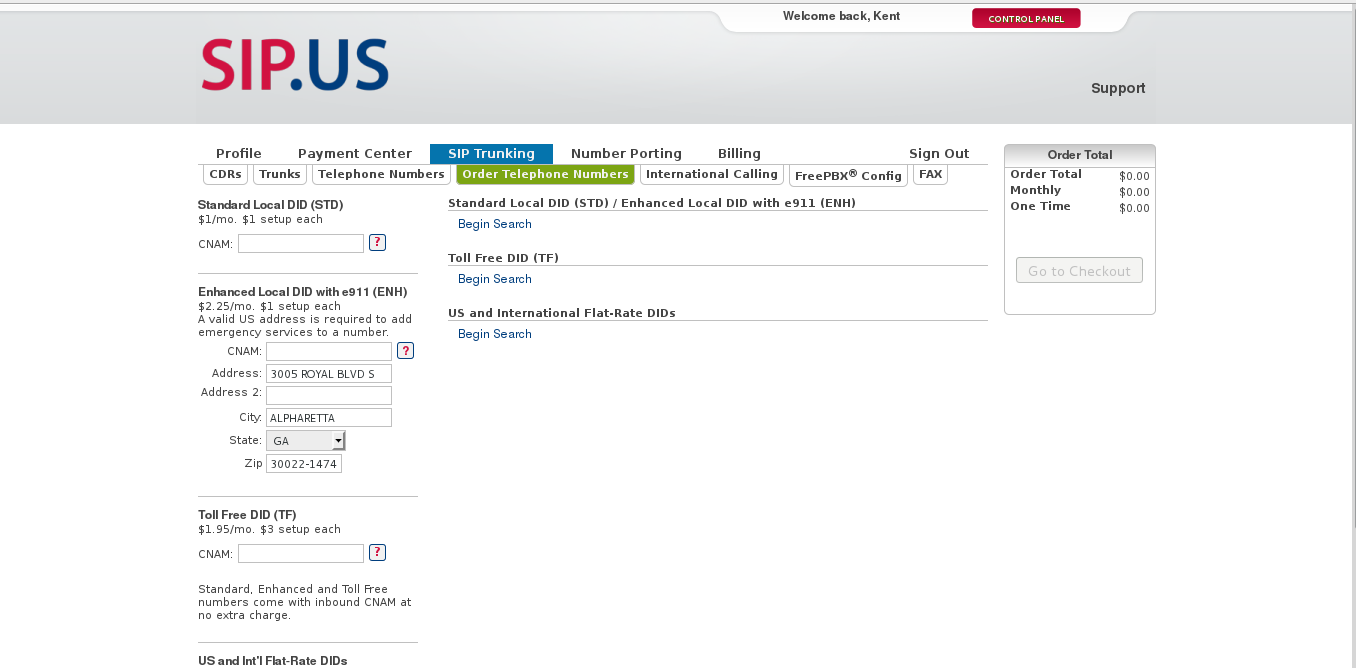 STEP 3:
Click on the "Begin Search" field under "Standard Local (STD)/Enhanced Local DID with e911 (ENH) field and select your state and area code from the drop-down menus: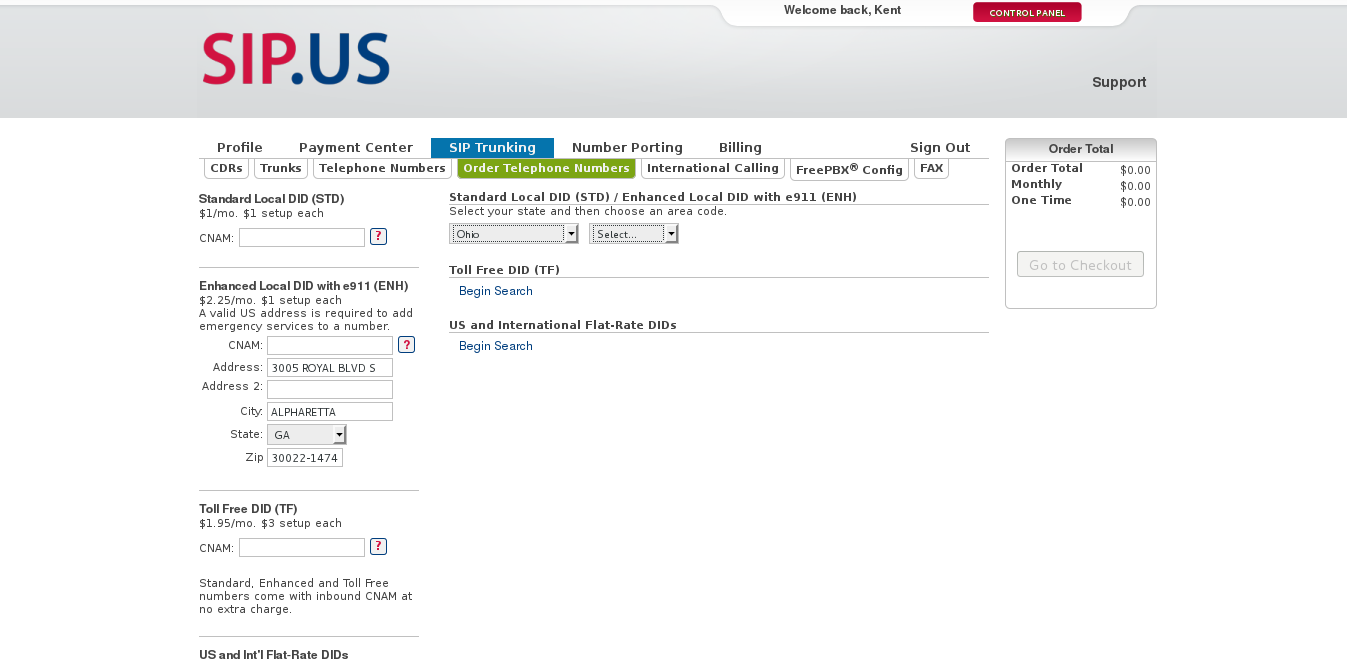 STEP 4:
Select and expand the city where you would like to search for a DID: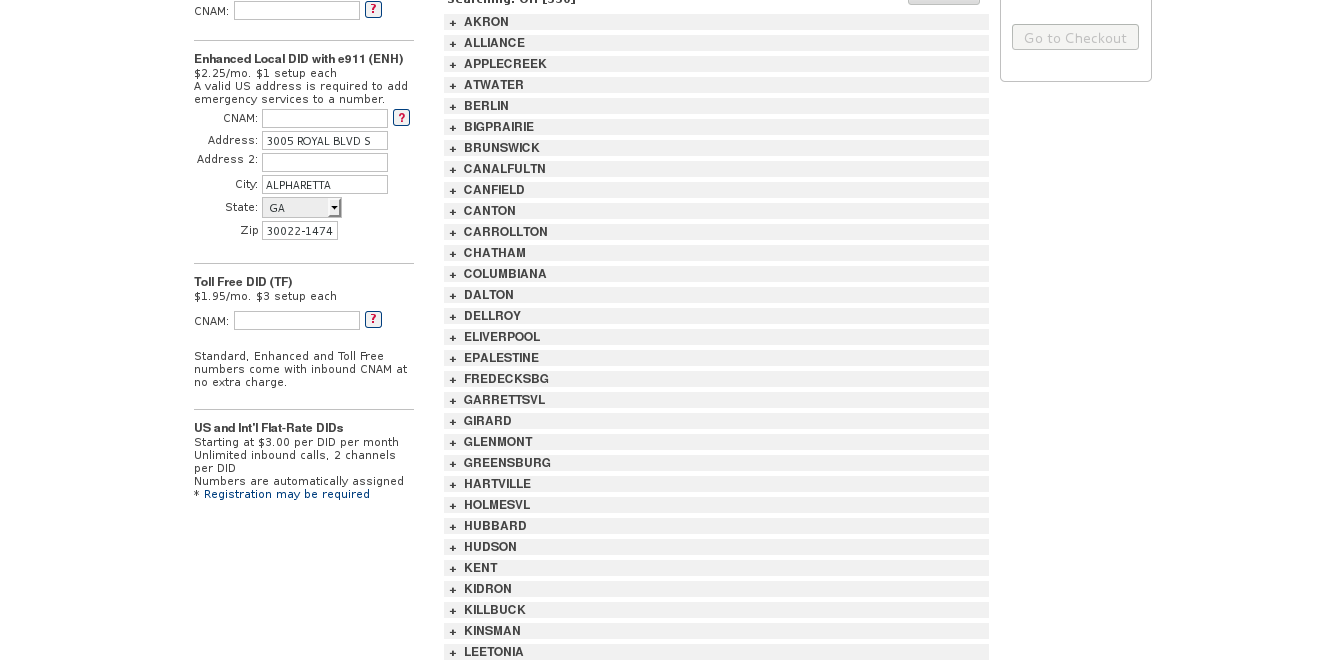 STEP 5:
Click the check-box next to the number you would like to select and ensure that the radio button next to "Enhanced" is filled in: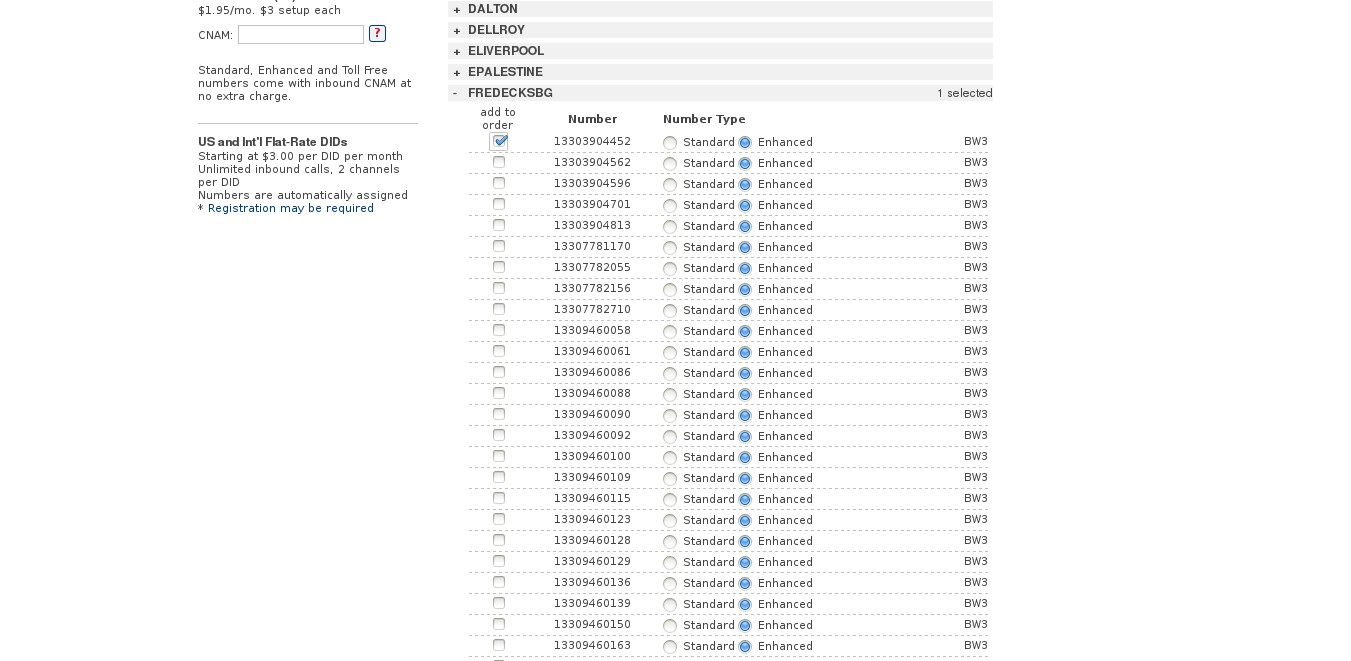 STEP 6:
Locate the address information box on the left-hand side of your screen. Place the name and address information into the fields where emergency services would be dispatched to then select "Go To Checkout" from the right hand side of your screen: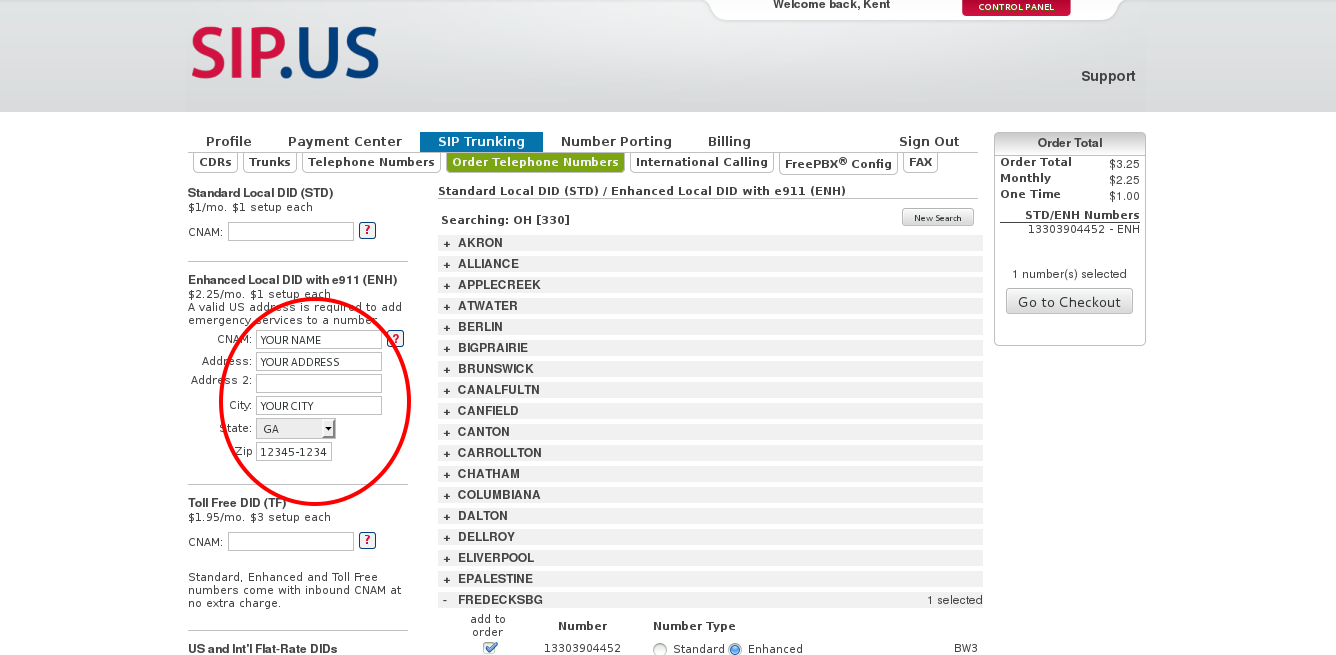 STEP 7:
Ensure that all information on the screen is correct, paying special attention to the address information summary. If you need to make changes select "Modify Your Order," otherwise click "Process Order:"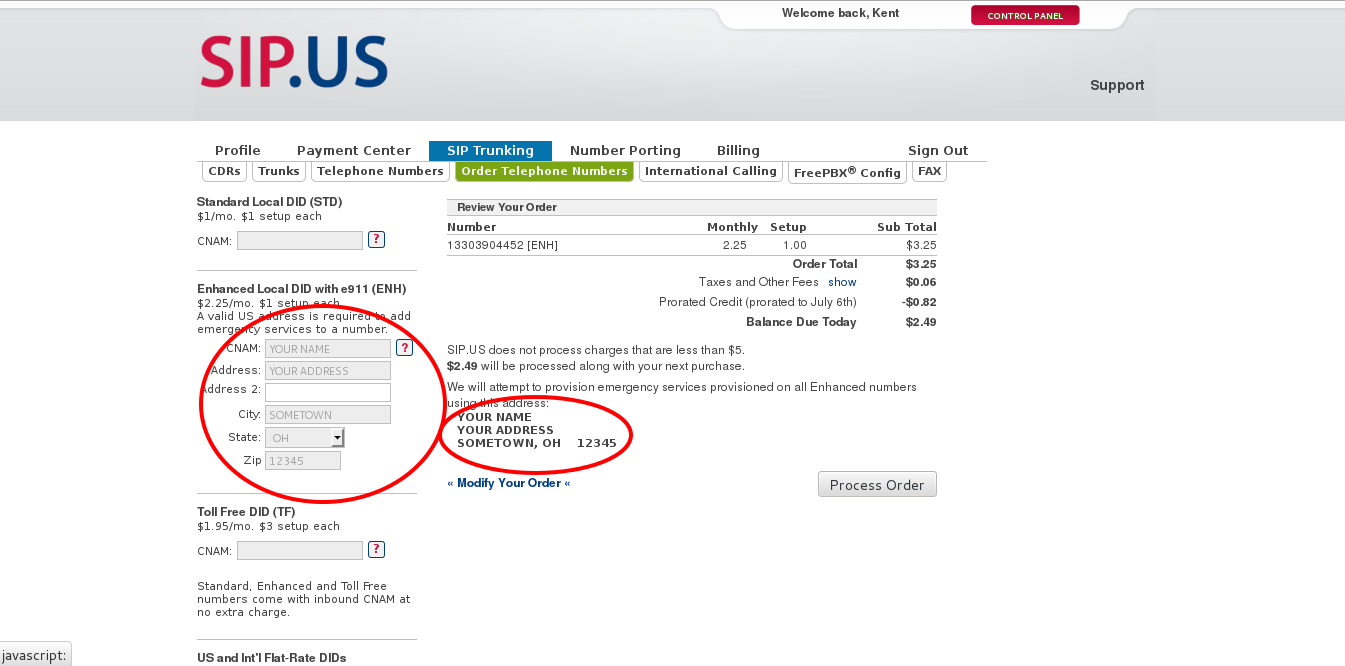 STEP 8:
Use the "CLICK HERE" link at the bottom of the page to add your ENH DID to your trunk: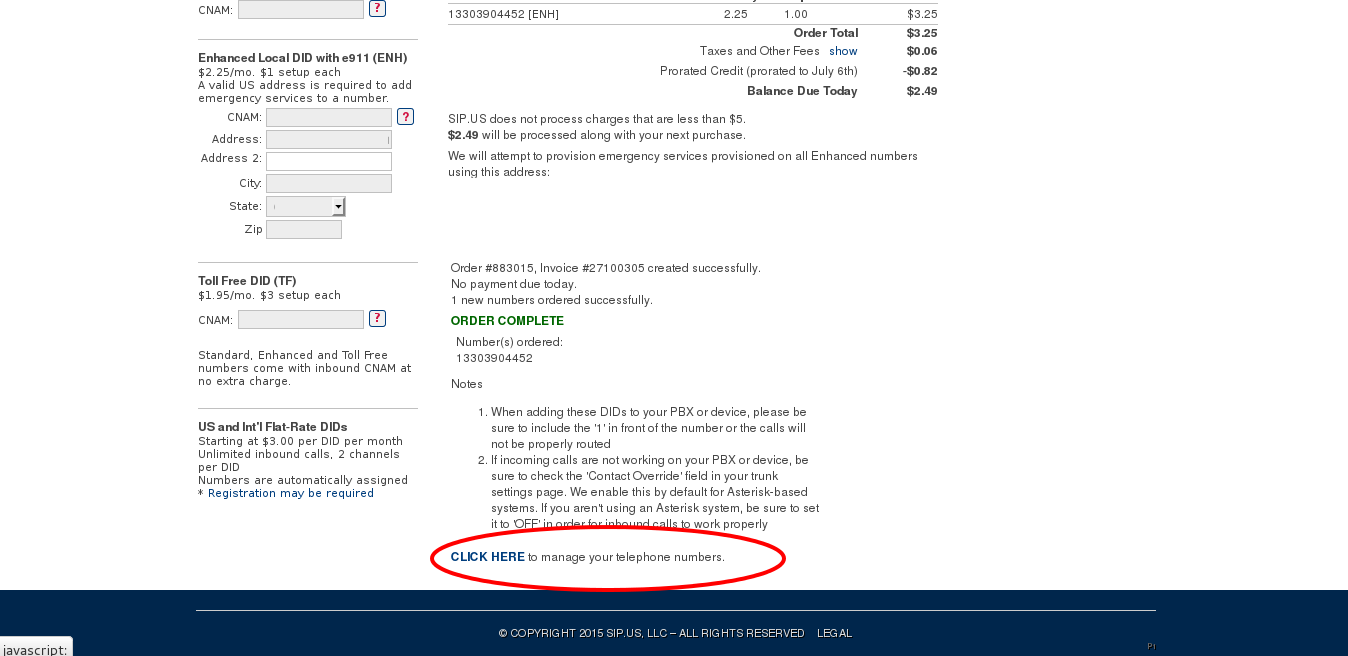 STEP 9:
You should be taken to a page like the one below. You may click on the "edit" button (the one that looks like a pencil), to change the trunk that this number is attached to: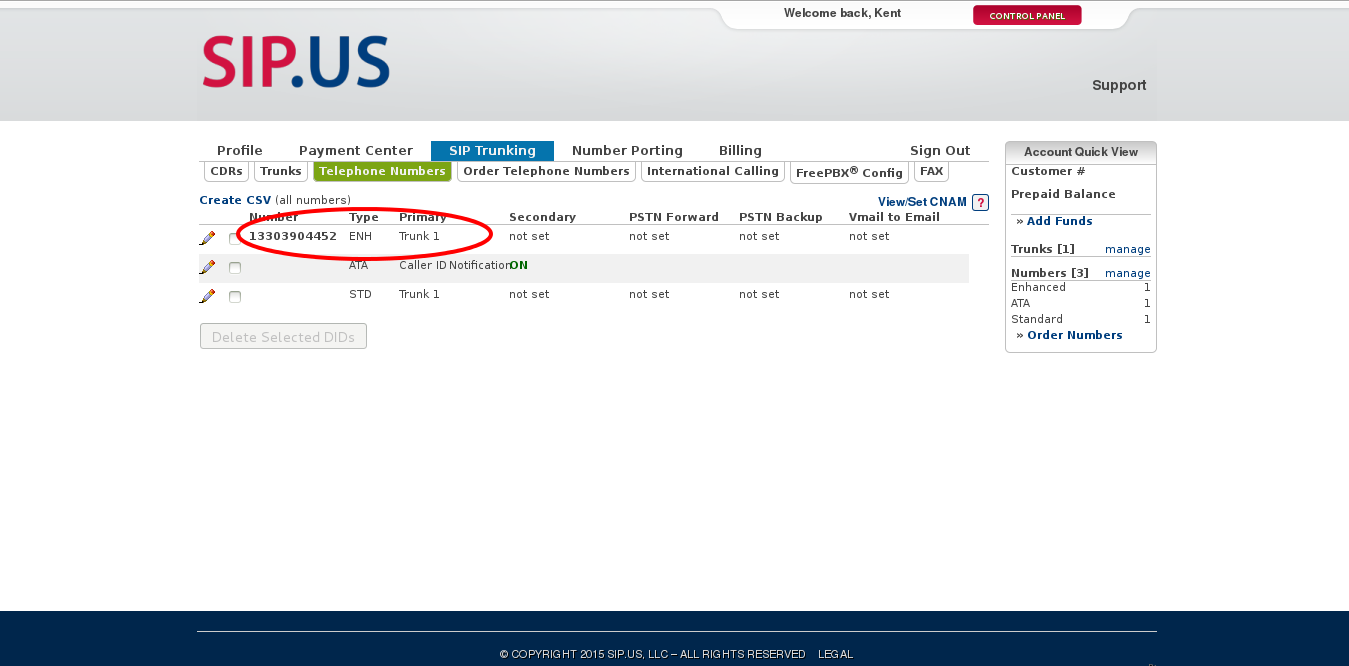 STEP 10:
If you clicked on the edit button you will be taken to a screen like the one below. Notice the drop down menu to select the trunk and the link to modify your address. Make any changes you wish, and then click "Submit" when you are finished:
STEP 11:
The only thing that remains is ensuring the Caller ID that is sent when dialing 911 matches your ENH DID. You can do this through most PBX systems via outbound routes/rules or dial pattern matching. Many PBX systems allow you to override the caller ID based on the endpoint that is calling. The steps from this point forward show you how to enable trunk based caller ID through SIP.US.
BEWARE: Following the proceeding steps means that only your ENH DID will be shown when you dial any number through SIP.US
To begin, click on "Sip Trunking" then "Trunks" in your Control Panel at SIP.US, and you should see a screen that looks similar to the one below. Click "Modify trunk" to continue: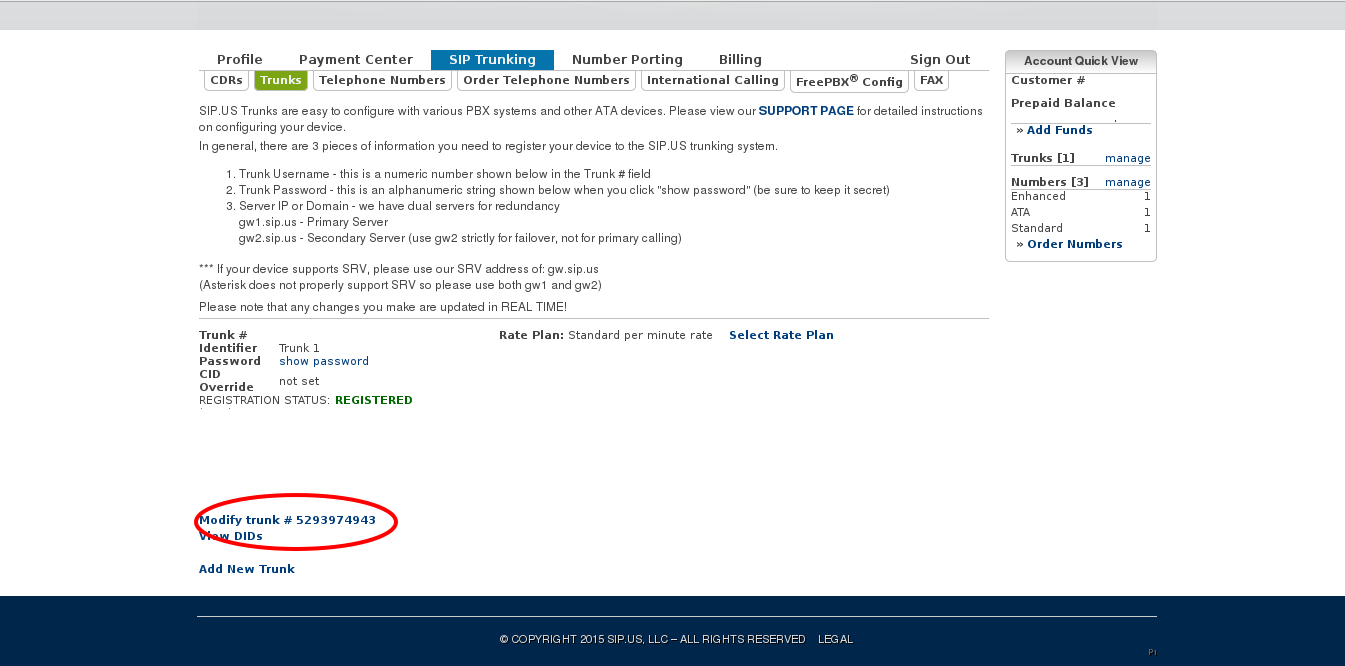 STEP 12:
Place your ENH DID in the "CallerID Override" field and click "Submit"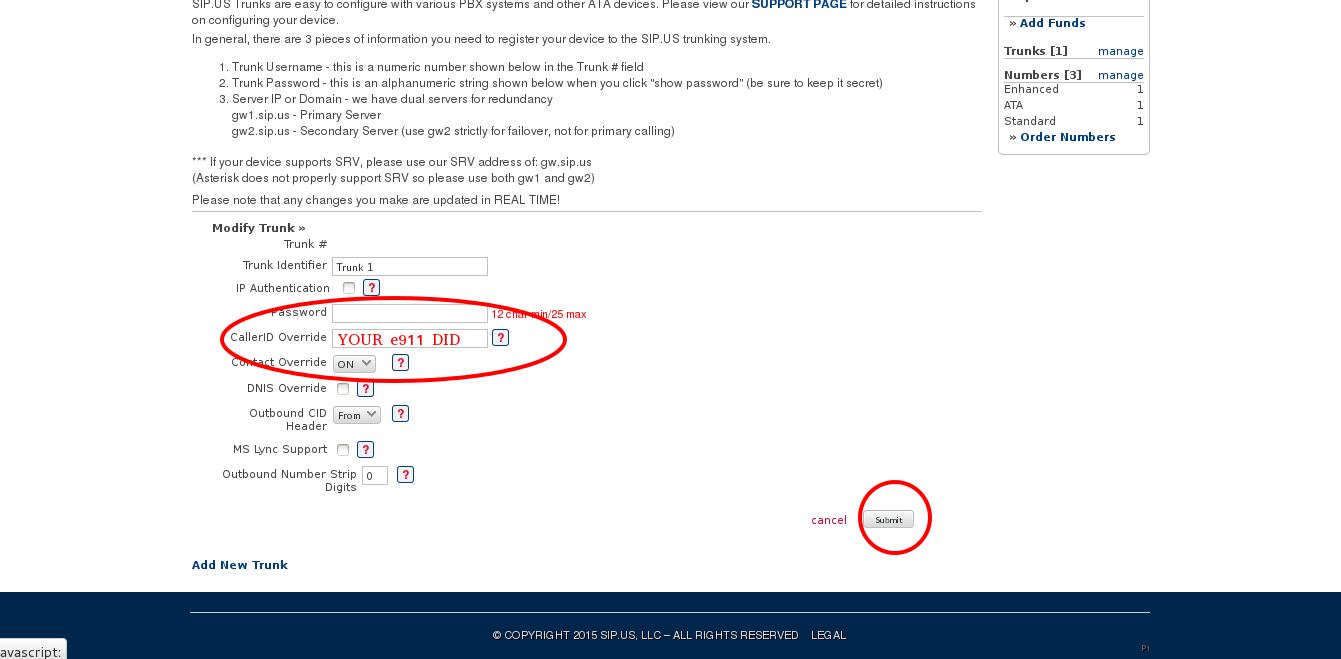 STEP 13:
Dial 933 from a phone that is provisioned to use your SIP.US trunk. This is a free service which we provide to ensure your ENH DID is working correctly. You should hear your ENH DID and Address played back to you. If the DID you hear is not correct, your outbound caller ID is not set up correctly. If the DID is correct but the address is not, you need to modify your e911 address in the control panel at SIP.US.
If you have trouble with any of these steps, please open a support ticket using the link in the upper right-hand corner of your control panel at SIP.US